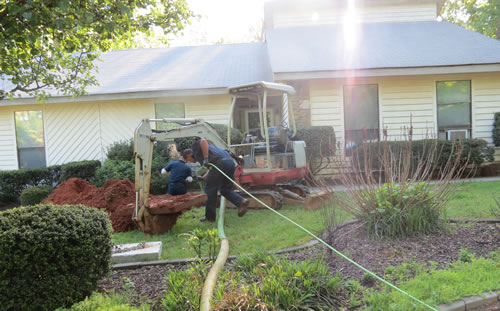 FREE SECOND OPINION & $250 OFF INSTALLATION
Call Septic Blue today for a second opinion. If you choose to go with Septic Blue, you'll receive $250 off your installation.
If your family lives in an older house or in a rural community, there's a good chance that you already have or will need a septic tank to store and properly dispense your waste water. Your existing septic system might be failing and are in need of a quality, affordable replacement service. Or, maybe you are building a home in the countryside and are in need of a septic installation on your new property. No matter what the reason is for needing a septic tank installation, the professionals at Septic Blue of Charlotte are ready to provide you and your family with exceptional septic services. Our septic plumbers are some of the best in the business. 
Septic Blue provides high quality septic installation services for Charlotte, North Carolina and nearby cities including, Matthews, Concord, Kannapolis and Mooresville.
There are several things to consider when preparing for a septic system installation on your land. Here's a few factors to include in the planning process. Of course, if you choose to hire an expert septic plumber from Septic Blue of Charlotte, we will be glad to give professional guidance throughout the process, from start to finish.
Determine the Length of Your Pipe from the House to Your Septic Installation Area
In order for the pipe to accurately drain sewage from your home to your tank, it needs to be installed at a slope. This allows gravity to quickly move the waste from your house to your septic system. If installed improperly, sewage will frequently back into your home's pipe system because it cannot drain at the rate it needs to. Knowing how far away from the home your tank will be, requires taking this into consideration, so the equipment isn't installed too deep underground. Hiring a qualified septic plumber from Septic Blue will ensure that your septic tank installation meets all local, state and federal laws and regulations. 
Choose What Kind of Tank You Need for Your Septic System Installation
Septic tanks come in a variety of materials, including concrete, plastic and fiberglass. The best choice for your home will depend on personal preference, price and local codes. It's also important to think about the size of your septic tank. This will be determined by how many family members you have, and how much waste you plan on going down your drains. The team at Septic Blue is here to help you decide on a tank that fits your needs and your budget.
Decide Where Your Drain Field Will Be Located
Choosing the proper placement for your drain field is a vital part of your septic system installation. Because this area will be absorbing your waste water, you will need to be absolutely certain that it is located in an area away from the following:
Rivers, Streams and Other Bodies of Water
Ground Water
Well Water or Fresh Water System
If the leach field is in a place where it can contaminate the drinking water, it could be very hazardous to the health and wellbeing of your family. It's possible that your tank could affect the water quality of your surrounding community and local environment. This is another reason why it's always a good idea to hire a qualified and experienced septic plumber for your septic tank installation.
Give Septic Blue of Charlotte a call for your septic installation. Hiring one of our professional septic plumbing professionals will make sure that you get the best possible service at affordable prices. Contact us today and schedule an appointment. 
Pin It