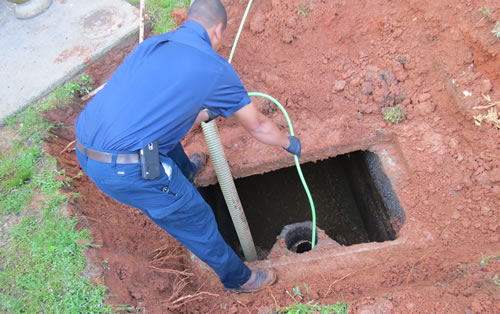 Septic Tank Pumping
Septic tanks are a great way to safely and efficiently dispose of your home's sewage. Like all wastewater systems, septic tanks do require routine maintenance in order to ensure that everything is running smoothly. The septic plumbers at Septic Blue of Charlotte have many years of experience working in the industry. We work hard to provide exceptional quality service to homes and businesses in our local community.
Septic Blue proudly provides septic tank pumping and other septic services in the Charlotte, NC area including, Mooresville, Kannapolis, Concord and Matthews. 
Why Septic Tank Pumping and Cleaning Extends the Life of Your Septic System
Septic pumping is designed to clear out the water and the top layer of sludge and grime that accumulates on top of your tank. The process gives you a lot more room, so you can enjoy your tank for a longer period of time. We will also clean your tank, which means we will remove the thick, bottom layer of solids as well. If you regularly schedule septic pumping and cleaning services, it will greatly increase the longevity of your plumbing overall. However, homeowners who choose to skip this step often find themselves having big issues when the solid wastes begin to clog up their pipes, wreaking havoc in their home and on their lawn. Septic pumping services at Septic Blue are very affordable, and will save you thousands of dollars by reducing the need for major renovations and replacements.
How Often Should You Get Your Septic System Pumped?
If your sewage is backing up into your home or yard, then you should immediately schedule an appointment. It's also a good idea if you have recently moved into an older home and are unsure how long it has been since the properties septic tank has been cleaned. Under normal circumstances, septic tanks should be thoroughly pumped and cleaned every 3-5 years minimum. The exact frequency is determined by a number of different factors including the size of your tank and how many people live in your house. It's also important to note that if your family uses a garbage disposal, you will need to schedule a septic pumping and cleaning service much more often. If you're unsure about the condition of your septic system, contact the professionals at Septic Blue of Charlotte, and one of our certified septic plumbers can perform a thorough inspection. 
Make Sure You Hire a Reputable Septic Plumber
The health of your septic system is an essential factor in maintaining the integrity of your property. Hiring the wrong person can lead to expensive complications down the road. The team of experienced professionals at Septic Blue specialize in septic services, so we are well equipped to give your home or business the best and most affordable solutions to your waste management issues. Our pros are certified, licensed and insured and hold themselves to the highest standards of excellence. We know how important it is for you to provide a safe, healthy and comfortable environment for your loved ones.
The next time your family or business needs to pump your septic system, give us a call and schedule an appointment with one of our quality local septic plumbers. The team at Septic Blue of Charlotte is ready to help get your septic tank working like new again.
Pin It