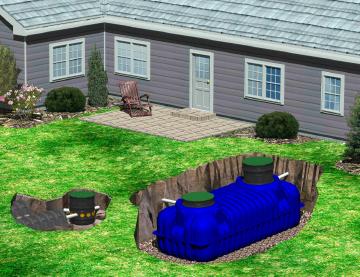 Septic Tank Inspection
No one wants to leave for work in the morning only to find that your home's sewage has leaked out into your lawn. The smell, hassle and difficulty involved in digging up your tank and pipes for repair are enough reasons to avoid this kind of problem in the first place. Regular septic system inspections will help you steer clear of disasters like this by ensuring that the integrity of your septic tank and drain field are properly maintained. The septic plumbers at Septic Blue of Charlotte are licensed and trained to conduct thorough, honest septic tank inspections for local homeowners and businesses. If you need a septic inspection for your property, you've found the right company.
Septic Blue provides septic system inspections in the Charlotte, North Carolina area including the cities of Concord, Matthews, Mooresville and Kannapolis.
Septic Inspections
Your property's high quality septic tank inspection includes:
Scum and Sludge Level Check
Thorough Inspection of all Pipes and Mechanisms
Review of the Condition of Your Drain Field and Surrounding Area
Residential Maintenance
Homeowners with existing septic tanks can increase the life of their septic systems by conducting regular septic tank cleanings to remove the accumulation of solids and the top layer of scum. Doing so will provide room and keep solids from hardening. If you don't do this at least every 3-5 years, the chances of getting clogs, backups and even system collapses will be much more likely. Avoid costly repairs and replacements by getting an annual septic tank inspection. Our septic plumbers are trustworthy and experienced in septic inspection services. 
New Home Buyers, Real Estate Investors and Developers
When you're thinking about purchasing a property with a septic system, you should always get a complete septic system inspection. Because the tank and pipes are buried beneath the ground, there's often no way to tell right away whether or not the system as a whole is healthy. Unfortunately, it may take a few weeks or months of using the home or business' water supply before symptoms of septic failure show themselves. Repairing a failed septic system or having to install a new tank or drain field can be costly. Not to mention the hassle of dealing with backups and foul odors. It's best to find out ahead of time what kind of condition the properties septic system is in before you sign on the dotted line. 
If you are a real estate investor or developer, it's even more vital to find a reliable and qualified septic service provider because of the frequency of inspection needs. Few things are worse than owning a rental property where you're constantly getting complaints about sewage issues. Our affordable prices and exceptional service will help your business save money. Whether you are purchasing a home for your family or you are in the real estate industry, you can trust the septic professionals at Septic Blue of Charlotte.
If your Charlotte, NC home or business is in need of a professional septic inspection, give us a call at Septic Blue. Our team is ready to schedule an appointment with one of our courteous septic plumbers right away.
WHAT DOES A SEPTIC INSPECTION INCLUDE?
Uncovering the septic system
Pumping the septic tank
Visual inspection of tank , lid , baffle tees
Flushing the toilets
Checking for signs of back up
Identifying leaks
Verifying drain fields are taking water
Detailed records and Photos emailed at the time of completion
Pin It